Meet the Fastest Repeating Crossbow in the World
Regular price
Sale price
$299.99
Unit price
per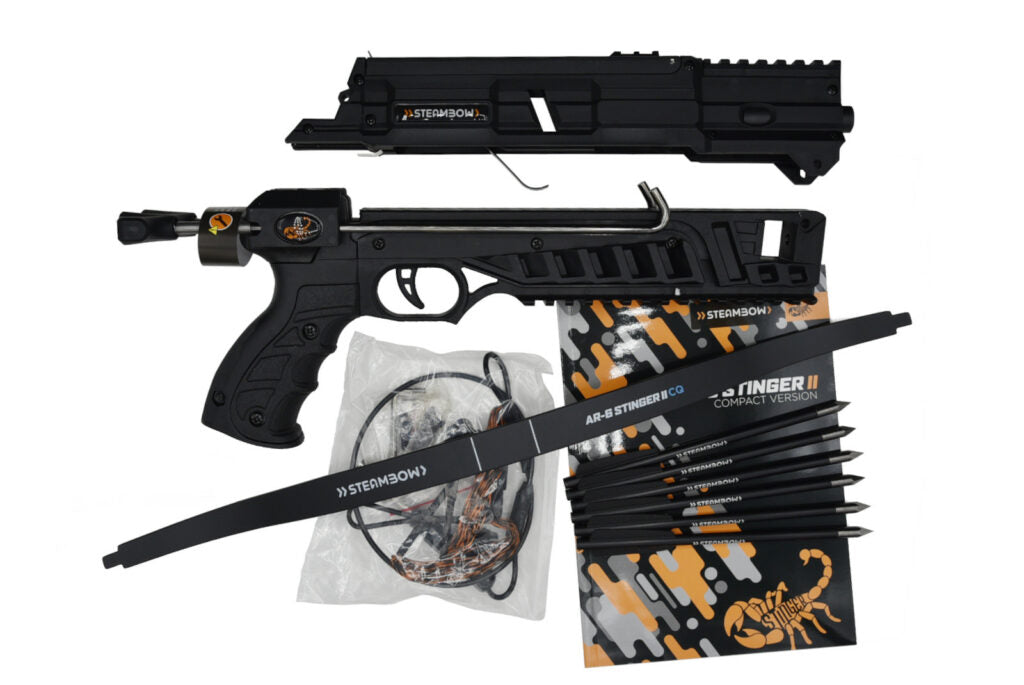 Lightweight, extremely fast, and surprisingly strong, the Steambow AR-6 Stinger II Compact redefines the pistol crossbow.

A more compact version of the successful AR-6 Stinger II, this model measures 17.5 inches wide and under 22 inches long while tipping the scales at just 2.55 pounds. It boasts the fastest rate of fire of any repeating crossbow on the market and can reach speeds of 150 fps, thanks to a completely new cocking mechanism.

The AR-6 Stinger II Compact is constructed of shock-and UV-resistant polymer, and a built-in fiber-optic front sight allows for fast target acquisition.
Shop Now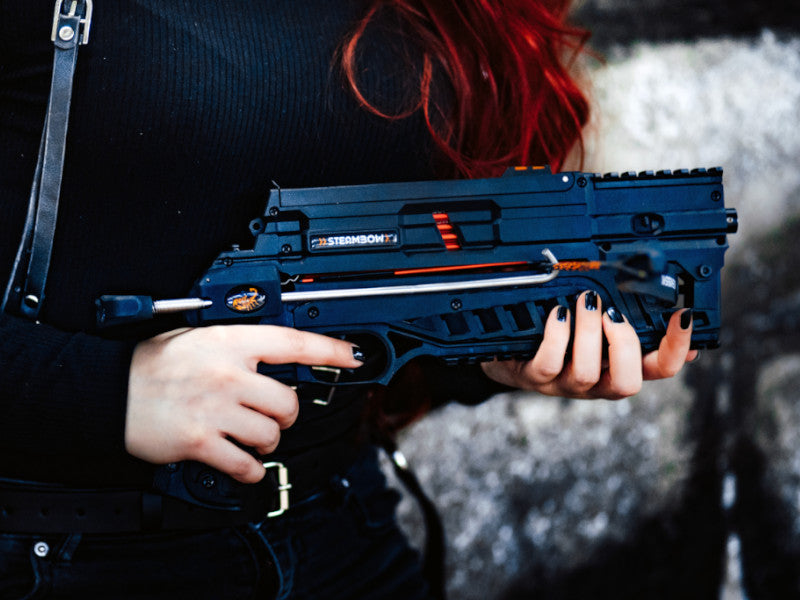 Learn more about the Compact
Extremely High Rate of Fire

Cocking is even faster than with the Tactical and all 6 arrows can be fired in 5 seconds or less!
Easy to use

The striaght cocking motion coupled with the fiber optic provide a ready-to-go solution.
Extensive platform

The built-in picatinny rails as well as original accessories for the AR-Series make this crossbow extremely versatile.
Highest quality materials based on Austrian Engineering

The AR-6 Stinger II Compact is built from weapons-grade high quality polymer and has been designed in Austria by abiding Steambows guiding principles
Extremely lightweight

With the crossbow only being about 2.2 lbs heavy and its really compact dimensions it is extremely portable and can be conveniently stowed away.
Accessorize it
Arrows

We offer arrows for all use cases and draw weights. Our aluminum arrows are color-coded and optimized for maximum use. Our arrow target is optimized for these arrows.

Shop Arrows & Targets

Limbs

We currently offer 4 limbs ranging from 35 to 90 lbs With our Compact any limb from 35 to 75 lbs can be used but lower draw weights are recommended for a higher rate of fire.

Shop Limbs

Customization

The Stinger II platform offers a wide range of tuning possibilities. From 7 different color-kits to conversion kits there are a ton of options to make your Stinger II truly your own.

Shop Kits & Tuning